Best Apple service – iPhone, iPad i Mac in Lodz
Post-warranty service or repair of the screen with replacement of the glass and other damaged parts.
Tuwima 22/26 street (see map)
mon – fri: 10:00 – 18:00,
sat: 10:00 – 15:00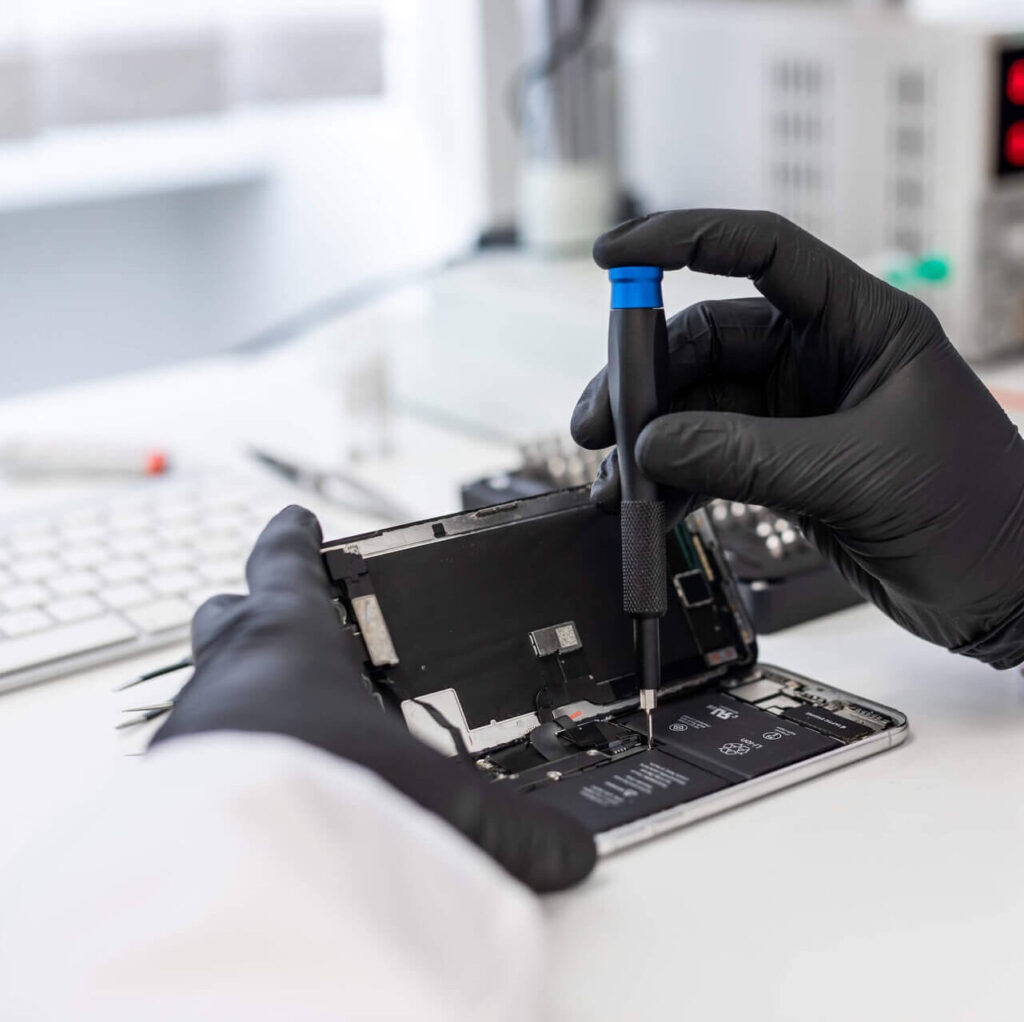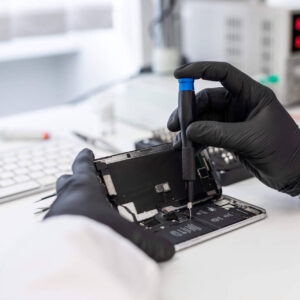 Why trust us?
Safety
We have confidence in what we do. We grant 180 days of warranty for repair work. We make sure our ventures and employees are insured, so that all of us can feel safe. In any given moment you can look up reviews our company received on Facebook or Google to make sure you leave your device in good hands
Original parts
We always use original, new and premium quality parts. All products come directly from the manufacturer and trusted suppliers, which guarantees their highest quality in accordance with the principle: "The dissatisfaction of poor quality takes much longer than the joy of low price".
Experience
Our department in Łódź is repairing Apple devices for 7 years, during which we have taken care of thousands of customers. Our service point located on Tuwim street consists of top specialists, who have previous experience working at authorized Apple stores. Due to the vast experience we managed to build service points across Poland, but Łódź will always remain our main headquarters.
Where to fix iPhone in Lodz?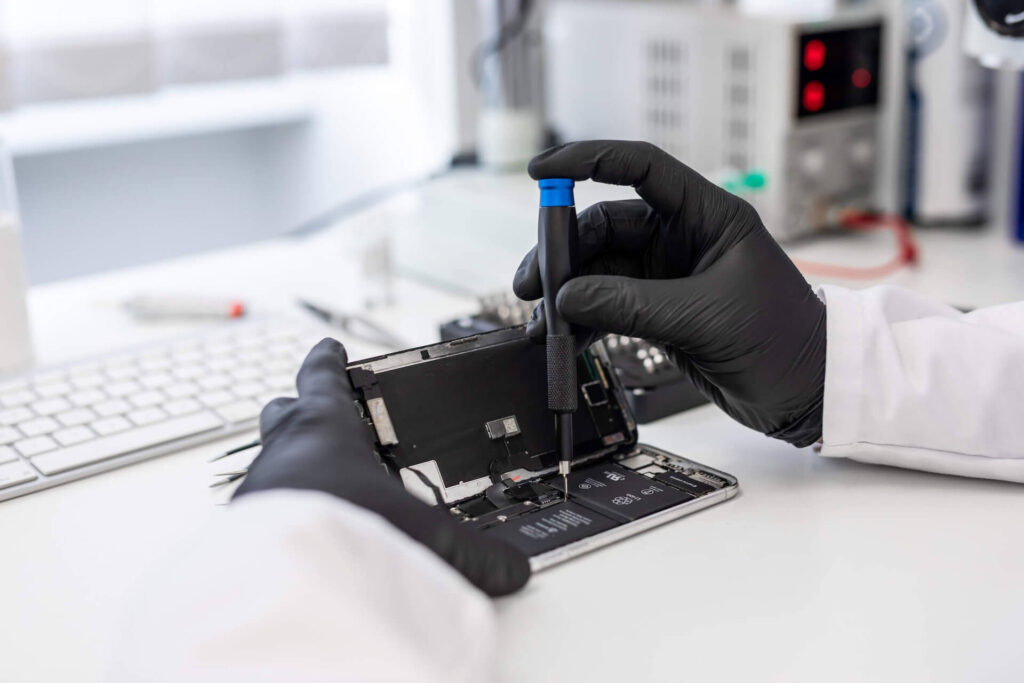 If you want to get your iPhone repaired, there is no better place than the iCare service point in Łódź, located on Tuwim street 22/26!
Your Phone broke down? You keep asking yourself "where can I get it fixed?" You try Google searches, calling all your friends for help, looking up Google and Facebook reviews. There are plenty of Apple service points and you keep wondering which one is reliable and recommendable. We don't want you to waste your time anymore, so we prepared this article. You will find out what to pay attention to when chosin your ideal iPhone service point in Łódź.
Proper customer care is the key to high quality service.
Professional customer care and short repair time are the core values of our company. We have confidence in the job we do, so we grant a 6 months warranty. We are available 5 days a week, also on the phone. In recent years we gained trust of thousands of customers, which is proved by reviews and ratings on Google and Facebook. We are the leader among Apple services available in the cities we are present at and we say that in good conscience.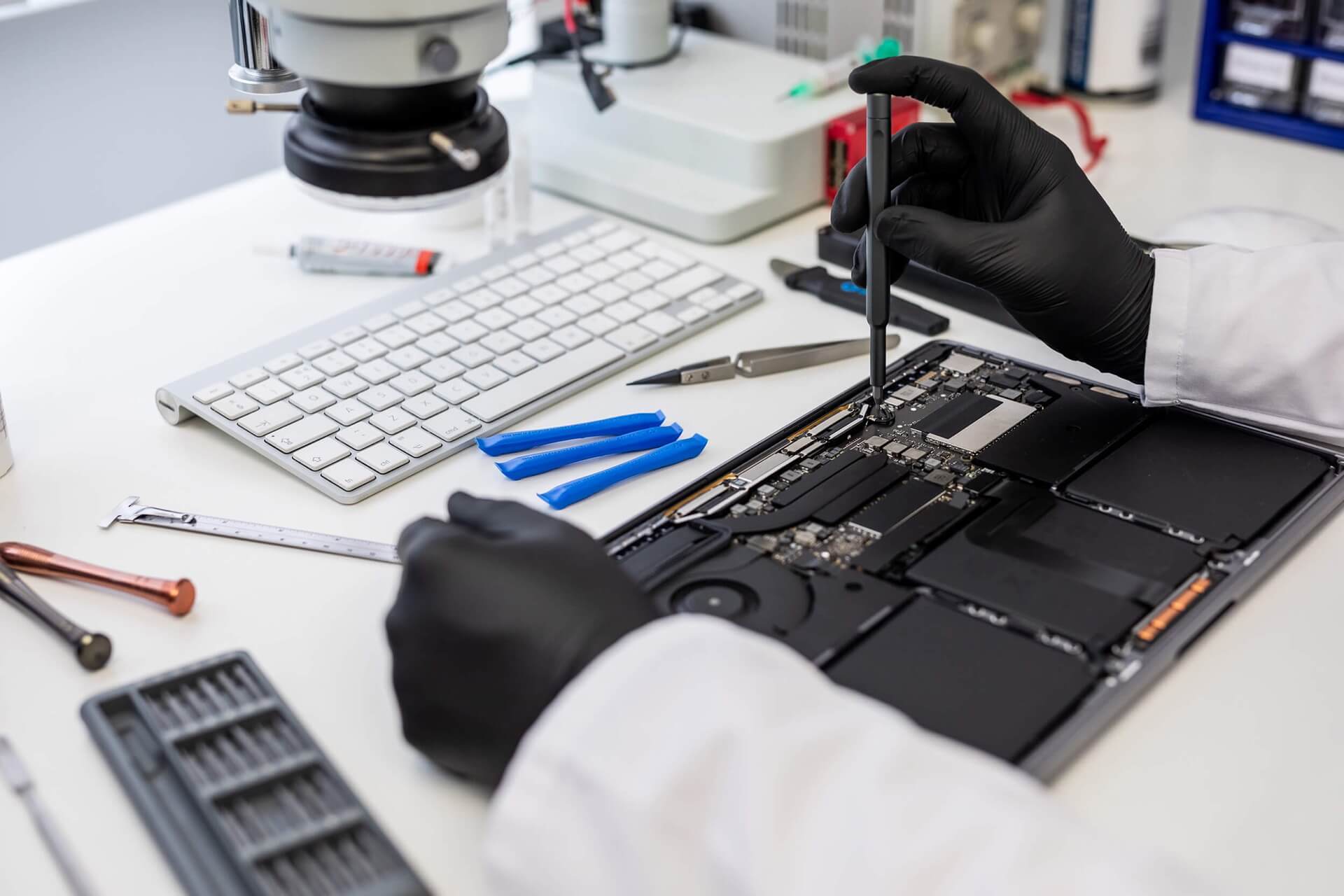 Why should you choose the iCare Apple service in Łódź?
The list below contains all important information, so please don't assume that the most valid arguments are at the top – bottom bullet points are as informative as those above. While choosing a service point you should pay particular attention to:
quality of the parts offered by service. The top rated service points offer original parts. You can consider an alternative when the price is definitely beyond your budget, but we recommend to be careful about it, as usually substitute parts are of very poor quality;
customer reviews, both on Facebook and Google. Please remember that some opinions may be fake. The negative reviews, however, are always true and those should be read with the greatest care. Few negative reviews or the absurd claims indicate that the service rarely makes mistakes;
Low and extremely low service price usually means that the place uses substitute parts. The lower the price, the higher the likelihood that parts used are of poor quality. Unfortunately, we also know cases in which low quality substitute parts were used regardless of a very high price;
repair time. The repair process of Apple devices may be time consuming and you should be careful. If a service informs us that they will process the regeneration of the screen in an hour, that is simply impossible. You can then expect that your screen will be replaced with another client's screen or with a cheap substitute. The exceeded repair time may be discouraging as well. Clients don't want to abandon their iPhone for a week, especially if the repair is easy. Both situations indicate poor customer care. Exceeded repair time may also mean that the device was sent in from another service point without customer's consent. It's hard to count how many times we had to rescue our competitors who gave up on the devices they accepted into service;
neatness is our calling card! Repairing Apple devices can be a complicated process which often requires soldering motherboards, screen regeneration etc. It is a MUST to conduct such a repair in sterile conditions. If the tidiness of the visited service point casts your doubts and makes you reluctant to lay the sandwich on the counter, all the more you shouldn't rely on them with a several-thousand PLN worth equipment;
machines. Let's forget the times when a good service could function using only basic tools, like screwdrivers… In order to deal with complex repairs, a modern service point must use advanced diagnostic tools and specialistic repair equipment.
Knowing these rules we do our best to meet our clients' expectations. Our technicians have long experience in iPhone repairs, which is proven by certificates received from Apple and independent scholarly institutions.
The most common iPhones repairs, which we conduct in thousands, are: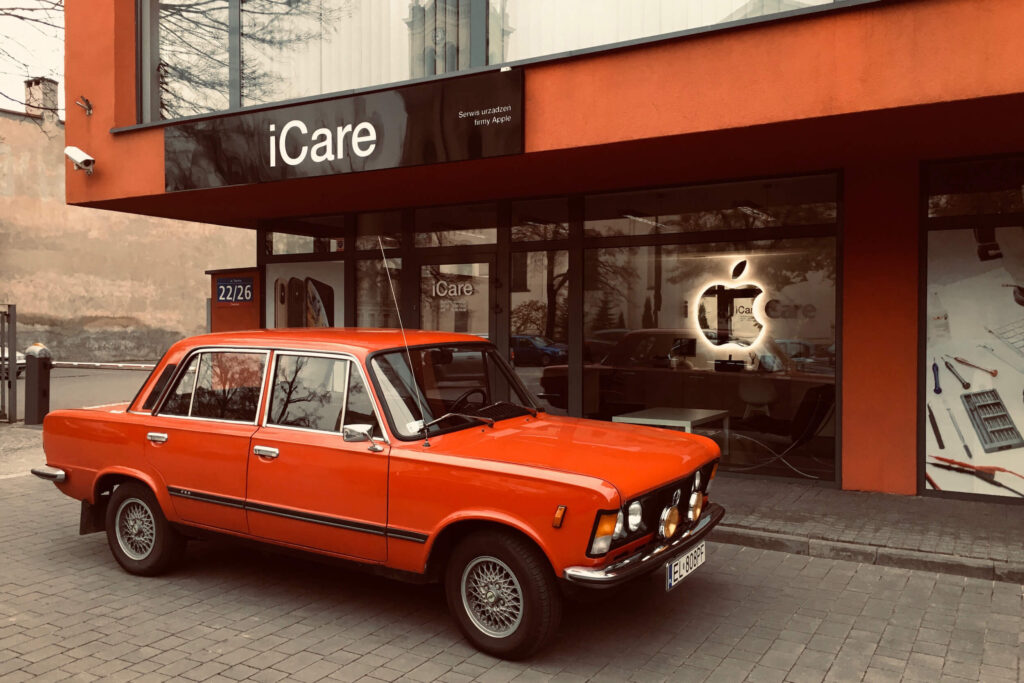 Professional customer service and short repair periods are the basis of our services. We are confident in our services, therefore we provide them with an appropriate 6-month warranty. We are available five days a week, as well as by phone.In the last few years, we have gained the trust of several thousand customers, which is confirmed by our ratings and reviews on Google and Facebook.
With a clear conscience we can say that we are the leader among Apple services in the cities where we are present. What is the secret of our company's success? We succeeded because we like our work and the atmosphere in our company very much. In addition, we do not stand still, but constantly develop.
Soldering of motherboard
Our service points are equipped with modern modern tools, which quickly and precisely handles even the most complex repairs, for instance soldering of the U2 system. We are confident in the quality of our work, so we grant warranty for all our repairs!
Repairing iPhone sound system, Łódź
If your iPhone makes disturbing sounds and you cannot enjoy the quality of your favorite music, don't hesitate to visit our service point. We offer Regeneration of the speakers or their replacement in case when it is impossible to bring back the full sound quality.
Charging socket replacement
Do you have problems with your iPhone's charging socket? It is a common flaw among various cell phone brands. Not always, however, it occurs due to poor quality of phone elements. They often get smutted, hence require regeneration. It is one of the most typical iPhone charging issues.
Battery damage
iPhone battery damage is also one of the most common flaws reported by our clients. Due to applied technologies and working conditions, lithium-ion batteries tend to discharge faster or stop functioning at all. It is the natural process despite using modern technologies, so users must be prepared that one day the battery will have to be replaced.
Replacement of the front or back camera
An iPhone can play a role of many different devices, including a photo camera. As a consequence of camera damage we may lose the ability to take photos or the images may be stained, lacking focus, etc. Our service provides full camera replacement without losing its original quality
iPhone display replacement, Łódź
Suffering from a blurred screen after dropping your phone? Our iPhone service will check if there has been damage done to the display or if the touch module replacement is necessary. Our service team in Łódź is highly professional, which guarantees nice post-replacement effect, for example without visible air bubbles.
Zamów wizytę w jednym z naszych stacjonarnych serwisów aby przyśpieszyć naprawę.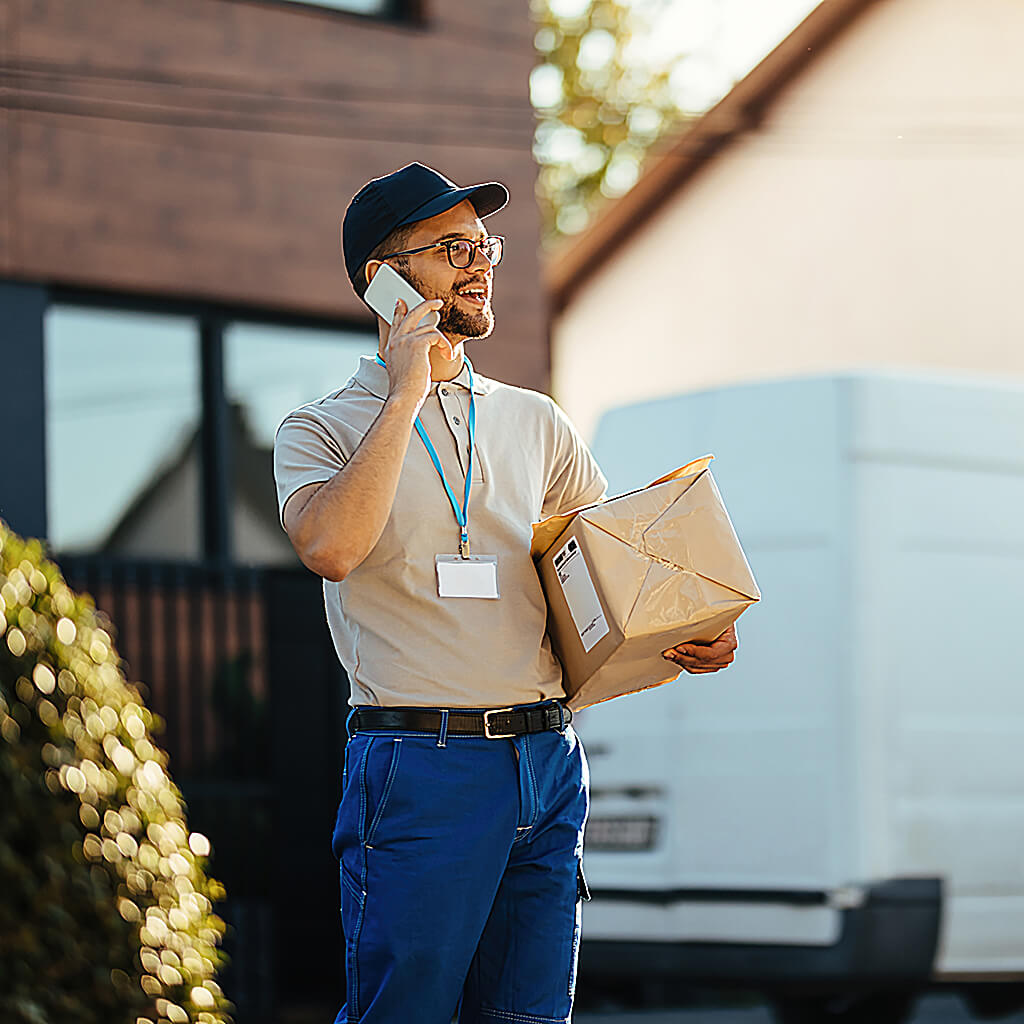 Zamów kuriera, który odbierze sprzęt od Ciebie, a po naprawie odwiezie prosto pod Twoje drzwi.